Why is it important for you?
Cyber-crime can cause significant damages to organisations, including (but not limited to):
Financial Loss
Data Breaches
Reputation Damage
Legal and Regulatory Consequences
Operational Disruption
Intellectual Property Theft
Extortion
Supply Chain Disruption
Loss of Customer Trust
Liability
Regulatory Fines
Business Disruption
Fraud
Environmental Damage
Identity Theft
Loss of your business altogether
​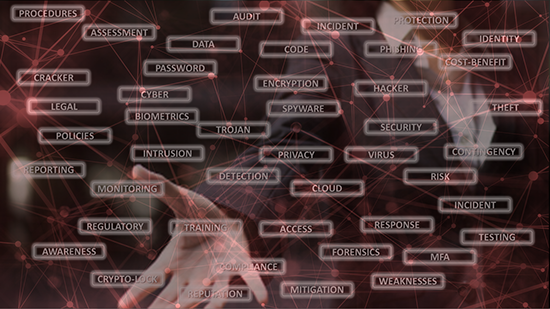 How can Cognicions help your organisation?
Providing guidance on establishing your cyber security management, framework, policies, and procedures

Assist with delivery of governance and compliance requirements
KEY SERVICES
Program / Project Management
Governance
Cyber Project Definition
Establishment of Cyber Security Road map
Cyber Policies and Procedures
Risk Management review
Common cyber security threats
Cyber security threats are diverse and continually evolving as technology advances. Here are some common cyber security threats that organisations and individuals often face:
Ransomware
On-line shopping
Phishing emails and texts
Business email compromised
Data breach
Quishing
Malware
Distributed Denial of Service (DDos) Attacks
Man-in-the-Middle (MitM) Attacks
SQL Injections
Cross-Site Scripting (XSS)
Zero-Day Exploits
Password Attacks
Social Engineering
IoT Bulnerabilities
Credential Stuffing
Insider Threats
Supply Chain Attacks
Staying informed about these common cyber security threats and implementing proactive security measures can help your organisation mitigate risks and protect against potential cyber attacks.
Prevention methods:
Set up a cyber framework
Establish cyber treatment policies and procedures
Have a plan of action to remedy if attacked
Update your devices
Set up and perform regular backups
Turn on multi-factor authentication
Set secure passphases
Recognise and report scams
Watch out for threats
A suspected or confirmed cyber-attack, what do you do next?
If you suspect or confirm that a cyber-attack has occurred, it's important to respond promptly and effectively to minimise damage and protect your systems.
Here is a general guide on what to do in the event of a cyber-attack:
​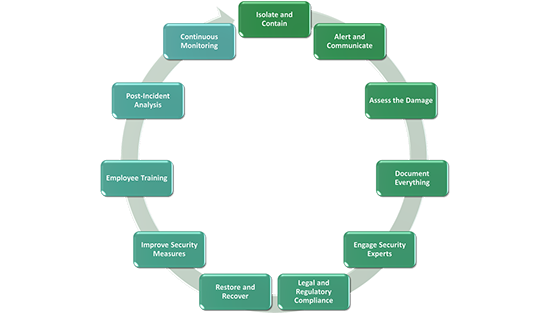 Remember that every cyber-attack is unique, and the specific steps you take will depend on the nature and scope of the incident. If you're unsure about how to proceed, it's crucial to consult with cyber security professionals who can provide guidance based on the specifics of your situation.
Key Outcomes:
Here are some key principles and practices to achieve more effective and predictable cyber security outcomes:
​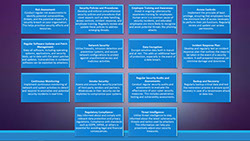 Remember that cyber security is an ongoing process, and the threat landscape is constantly evolving.
Regularly reassess and adapt your security measures to address new challenges and emerging threats.
Additionally, having a cyber security professional or team in place can enhance your organisation's ability to stay ahead of potential risks.
The continuous and evolving nature of cyber security in organisations.
​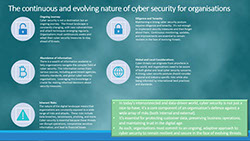 Cyber Security Road map
Creating a cyber security road map is essential for organisations to pro-actively address security threats and vulnerabilities


A cyber security road map serves as a strategic plan that aligns security efforts with organisational goals, helps organisations identify and mitigate risks, and ensures compliance with relevant regulations


It is a proactive approach to cyber security that benefits the organisation's financial stability, reputation, and long-term success
There is a convincing need to adapt as the threat landscape evolves and the organisation's needs change.
Challenges in Producing your Cyber Security Road map
​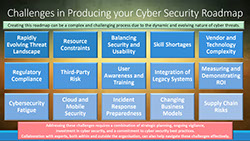 Creating a cyber security road map for your organisation
​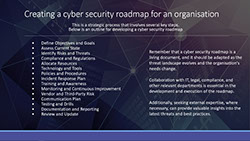 Key considerations
​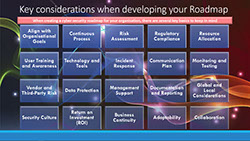 By following a structured approach cyber security, your organisation can maintain accurate records, demonstrate compliance, improve your cyber security stance, and effectively manage security-related activities and changes
Remember that cyber security is an ongoing process. Regularly review and update your road map to stay ahead of emerging threats and evolving security requirements
​ Collaboration between IT, security teams, and senior management is crucial to the success of your cyber security road map
More information...
about creating your organisations cyber security road map can also be found in this textbook on Amazon...
​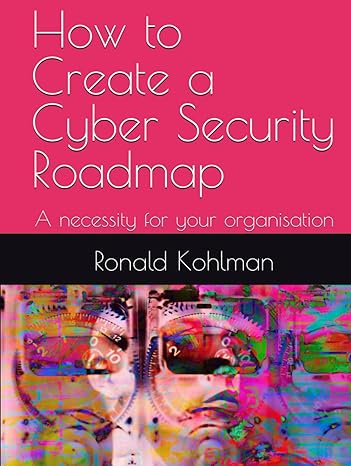 ​